Paris, May 18, 2020 – Oodrive, the trusted partner in sensitive data management, has announced the appointment of Mathieu Pierret as Head of Engineering. An IT project management specialist, his role will be to support the growth of Oodrive, the European leader in share, save and sign solutions. Reporting to COO Stéphane Ankaoua, Mathieu Pierret will help boost Oodrive's growth and technological capacities by improving the efficiency of its technical processes and the quality of its product development, all the while remaining faithful to the principle of "security and privacy by design".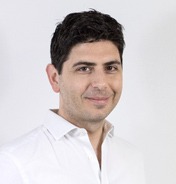 Strong IT and cloud expertise and experience in sensitive environments
With a degree in Engineering, Mathematics and Computer Science from Paris Dauphine University and more than 20 years of experience managing projects and technical teams, Mathieu Pierret is passionate about product development, cloud technologies and agile methodologies.
He started his career at BNP Paribas Securities Services, managing complex international projects that were highly sensitive in terms of both quality and security, in particular in the field of asset management and fund management, for more than 15 years. He then joined Cloudreach, a leading European cloud services company, where as Product Leader he was responsible for developing evaluation and management solutions for the migration of application portfolios to the cloud. More recently, Timspirit has benefited from his experience in developing cloud solutions. Now his expertise will support Oodrive's global ambitions in the context of its transformation, aiming to deliver even greater added value for its customers.
"This new adventure represents far-reaching challenges, with real prospects for expanding and affirming Oodrive's global leadership in sensitive data management. The main challenge for me in working towards this goal will be to bring greater fluidity to our workflows between product vision and production rollout, for example, by industrializing our practices." commented Mathieu Pierret, Head of Engineering at Oodrive.
Oodrive adopts a continuous performance approach
Over the past 20 years, Oodrive has successfully undertaken a series of technological and organizational transformations. As Head of Engineering, Mathieu Pierret will optimize and harmonize existing methods and systems to ensure continuity in the rollout of efficient processes and top-quality, secure solutions.
"Mathieu Pierret's sound expertise in IT, notably in a sector as sensitive and strategic as banking, is an invaluable asset for us. His multidisciplinary vision and skillful management of complex international projects are also vital qualities, especially now at the start of this new key decade for Oodrive— a decade that we hope will be, for us, synonymous with success, performance , and agility." emphasized Stéphane Ankaoua, COO of Oodrive.