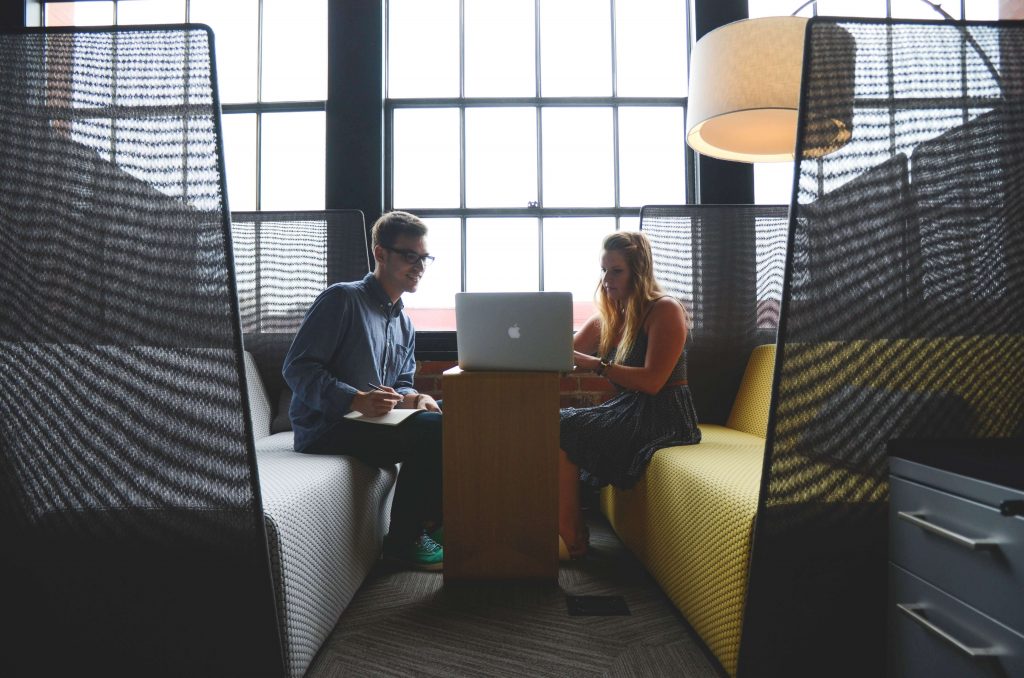 In our constantly changing world, working methods are evolving too. Today, companies must rethink their environment to meet their employees' expectations, to boost their performance but also to increase their sense of loyalty. This is why Oodrive, a trusted partner for sensitive data management, has decided to create a Flex Office space in its brand-new Paris offices. Oodrive's solutions are used by over one million people across the globe because of its capacity for innovation to meet specific needs. A philosophy that also applies to its integration of modern, collaborative approaches.
An approach aligned with changes in working methods.
Oodrive's Paris teams are constantly expanding, and the group wanted to ensure that they could all continue working in central Paris. A creative approach was therefore needed to find and optimally arrange the space required to accommodate this growing number of employees against a background of strong growth.
The Flex Office concept (a space without attributed desks) quickly came to the forefront, in no small part because Oodrive loves to experiment and was inspired by the best solutions available. Certain roles have long since become 'nomadic', and the group made the decision to move away from a traditional vertical hierarchy, where teams work in silos, in favor of interaction. The idea behind this is to offer greater flexibility to employees in managing their daily work. Furthermore, Oodrive's HR policy has always aimed to encourage employee wellness, particularly with a view to improving company loyalty.
"This disruptive approach is widely used in the start-up world, but less so by companies of a certain size, like Oodrive, which today has a workforce of around 400. It is not always easy to implement a large-scale Flex Office approach, as it's a case of designing the space for how it is used – the offices adapt to the employees, not vice versa. So the larger the workforce, the more complicated the task". Jean-Louis Amice, Oodrive's Human Resources Officer
Flex Office: the Oodrive approach
Located in the heart of Paris, in the 10th district, Oodrive already had offices located on the 2nd floor of a building on rue de l'échiquier – a former workshop that the group renovated into a loft space with flexible areas. Oodrive capitalized on a great opportunity in acquiring the ground floor of this building, giving an additional 560 m2 of space. This is where employees will discover their new working area in mid-May, after 6 months of renovations.
"This Flex Office space has been designed for our 80 sales representatives. An ideal population for this new way of working, as they spend half their time on the premises and the other half visiting clients and prospects. Once we have tested this pilot, we anticipate extending this to other profiles, such as our developers and our R&D and product teams – 150 or so people". Jean-Louis Amice.
As part of this project, Oodrive established a steering committee including representatives from HR, operational management, marketing and general services. Of course, managers were also involved so that they could convey the approach to their teams. Furthermore, visits were organized throughout the project to enable employees to become familiar with this space – and give their views.
A guided tour: welcome to Oodrive!
In its new offices, Oodrive will offer new areas for new ways of working. Each employee will be able to find their place, depending on their wants and needs, rather than their status or belonging to a specific team.
For work, you will find…
A large contemporary space with glazed partitions, but no dividing walls or individual offices;
Specialized co-working areas for team brain-storming and separate areas for focusing on individual projects;
Rooms adapted for different uses: large meetings, welcoming clients, holding job interviews, teleconferences with an up-to-date video system, etc.;
More private areas, particularly to avoid disturbing colleagues when on the phone and to ensure the confidentiality of sensitive information;
And even a unique location: an auditorium that seats up to 25 people, designed for those who like to work differently – on a beanbag with a laptop or on a recliner with headphones!
And those little extras…
High tables and stools, as well as more traditional lower ones, so that each individual can choose the most comfortable position in terms of ergonomics;
No fixed telephone lines – just instant messaging and smartphones;
A personal locker for each Flex Office employee;
A "wireless" space to avoid crisscrossing cables and streamline the visual aspect;
Interactive walls that can be written on and erased to replace paper boards.
For breaks…
A large terrace for having lunch, taking a break or organizing an event;
A relaxation room with video games, board games and table football;
A gym with state-of-the-art machines.
And why not…
Partnerships with companies in the Sentier neighborhood, particularly for food deliveries;
Group classes like yoga, relaxation, sophrology, first aid…
More information will be available mid-May when the Oodrive teams will move into these new and somewhat unusual premises.
"Of course, this project follows current trends. But it's not a question of blindly following the crowd – we have reviewed the matter in depth. The idea is not to save space – as it is in many cases – but to give our teams independence and encourage interaction. This approach is in keeping with a new way of working, one that aims to promote a results-oriented culture, not on 'presenteeism'. So our employees have more freedom, but also have to be disciplined. This project is therefore founded on trust – an essential value in our view". Jean-Louis Amice.