Protect your organisation from any event, with all of your critical data, systems and settings backed up in a secure cloud, ready to restore and restart in an instant.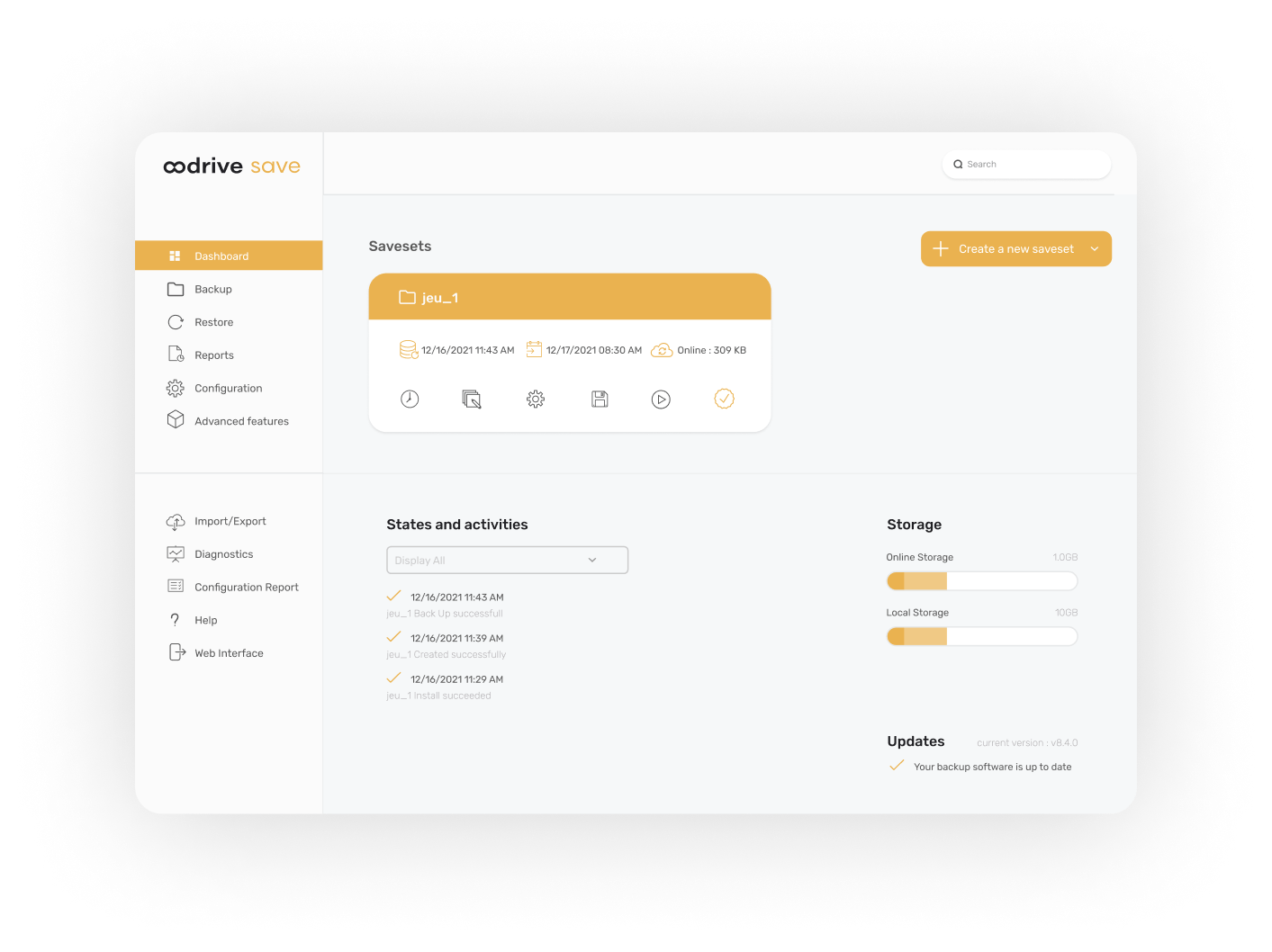 Set clear parameters for automated backups at the right schedule for your organisation: monthly, weekly, daily, or continuous. Take action in the event of cyberattacks from ransomware or other threats, with instant alerts of abnormal activity.
Simplify backup management
Managing your backups is made simple by clear controls, monitoring and oversight. Eliminate the need to install and maintain on-premise infrastructure with an ultra-secure cloud you can trust – even in the extreme scenarios.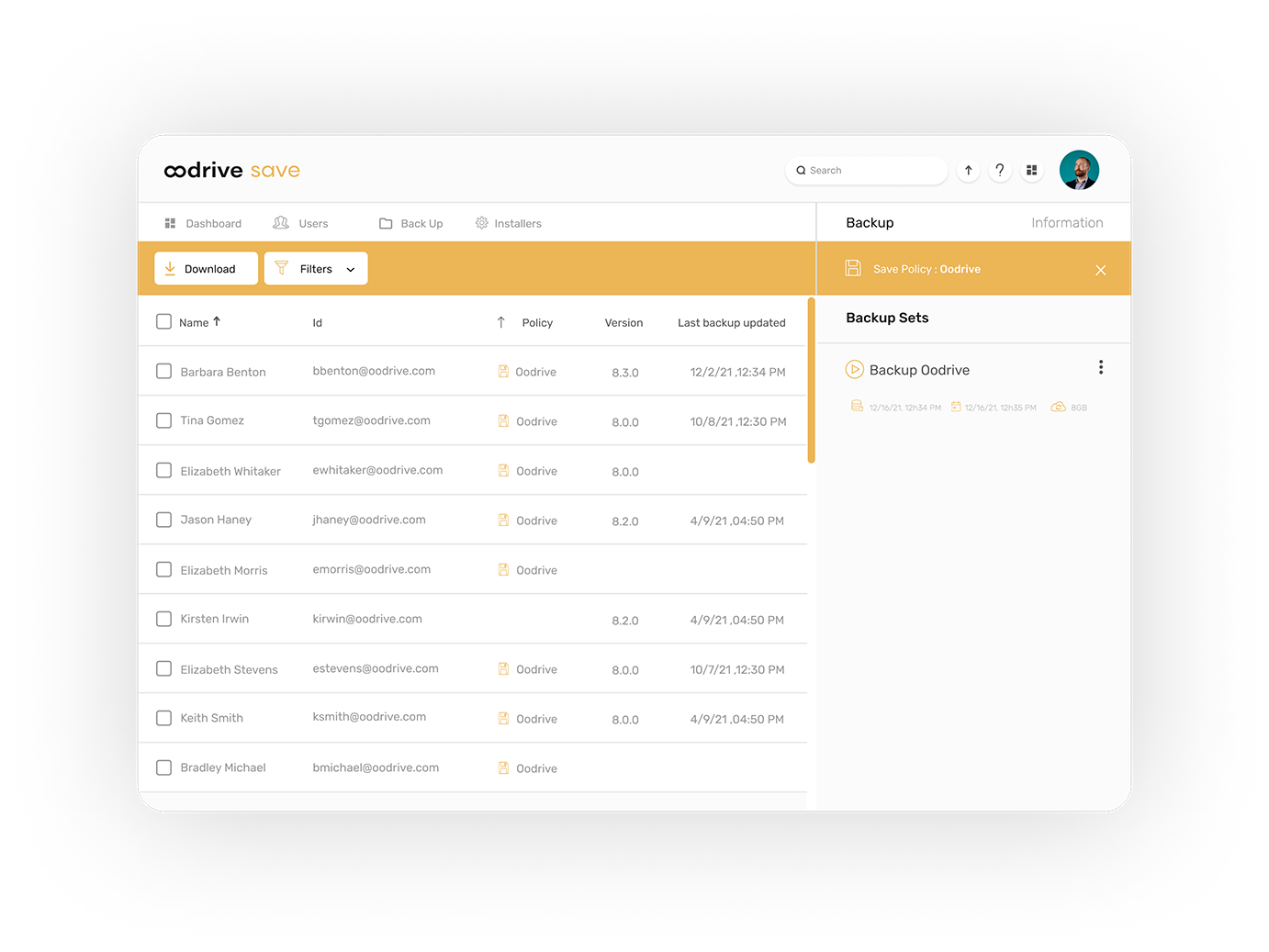 Get back to business
Avoid disruption and minimise downtime with backups that get you back to business in an instant, so you can pick up where you left off. Oodrive Save technical support helps you create and customise the backups you need to safeguard operations, without the need for technical skills.
Create a schedule for backing up data that fits the needs of your organisation. Oodrive Save makes it easy to manage backups for unlimited users across content, data, applications & even complete systems.
Secure data throughout its entire life cycle with AES 256 end-to-end encryption covering transfer, storage and recovery, with options to replicate data across ultra-secure sites within the EU.
Manage backups and data retrievals from anywhere via a secure web interface, and receive detailed metrics and up-to-the-minute reports on the status of your scheduled backups.
Automatically retrieve lost data & entire systems with Bare Metal Recovery (BMR). Store backups for up to five years, with ultra-secure access restrictions. We provide on-demand technical support so you are never on your own.
Learn about secure backups systems, data encryption, and more with our FAQs.
Data is essential to the functioning of a company. In the event of a disaster (cyber-attack, mishap or negligence, for example), loss of data may jeopardise the continuity of the business. Regular backups help protect against the risk of data loss.
Backup is the saving of data with a view to recovering it. The Oodrive Save solution is a 'backup tool' enabling data to be copied to your cloud at a given moment in time in order to protect the company and get it back running again after the loss of its data or system.
Automatic backups are scheduled in advance to be performed at regular intervals, e.g. every day for a large amount of data, every week or month to generate the history, etc. They ensure that sensitive corporate data is regularly saved and can be retrieved in the wake of catastrophic event.
Oodrive Save performs automatic backups according to the desired frequency. Information is stored in the Cloud, which protects you in the event of a physical mishap. When the information is retrieved, it is transferred to your workstations and servers.
Oodrive Save can create backups for all types of data: files and folders, Windows workstations and servers, applications, system configurations, virtual machines, etc. You can choose between a variety of backup media – Cloud, external hard drive, NAS, etc.
Backing up data on the Oodrive Cloud allows you to do away with physical media (DVDs, external hard disks, USB keys, etc.), to reduce the size of your infrastructure (no on-site servers) and safeguard your sensitive data by outsourcing it to a Trusted Third Party.
The level of security of the data stored on the Cloud depends on the degree of security of the servers and the legislative framework of the country where they are located. Oodrive stores your data in a variety of data centres that comply with the strictest security requirements and are located in France.
With Oodrive Save, you can choose to back up a selection of files, folders and/or applications, or the whole machine (OS and system settings). In either case, only changes made since the last backup are taken into account, which saves time when transferring data.
Oodrive Save allows you to schedule backups at the frequency that suits your needs. How often backups should be performed depends on the frequency of data generation/modification, the sensitivity of the data and the internal security policy.
The backup process can use up a lot of your bandwidth. By focusing on the changes made since the last backup, Oodrive Save offers significant improvements in speed and efficiency without impacting your business. Certain types of data (SQL databases, .pst, etc.) are saved while in use.
Teamwork begins with trust
Find out how your business can secure sensitive content, without slowing down work.