Secure content
& collaboration
Oodrive Work is a trusted environment for all your sensitive content and documents. Create, collaborate and share more effectively without ever compromising the highest levels of security.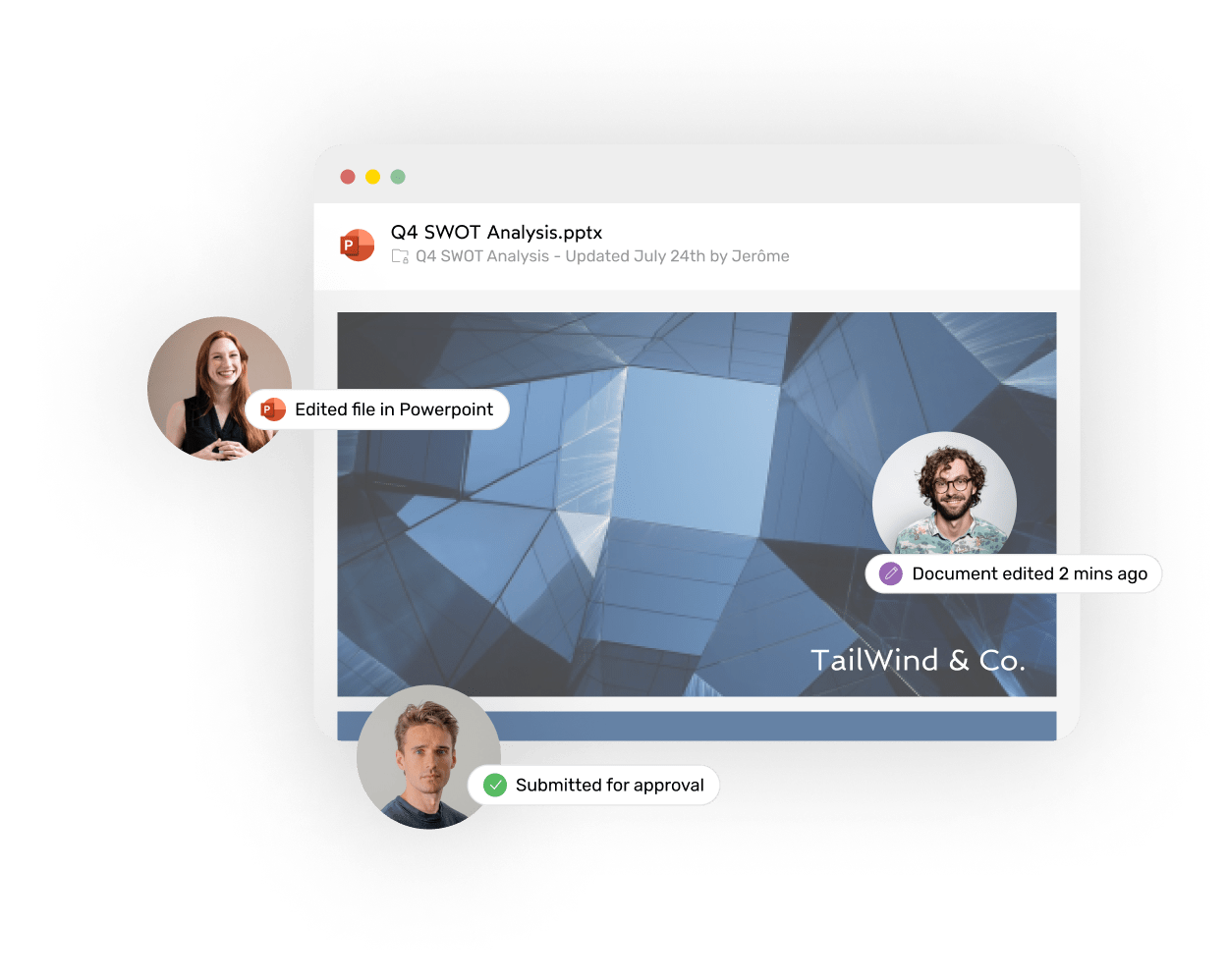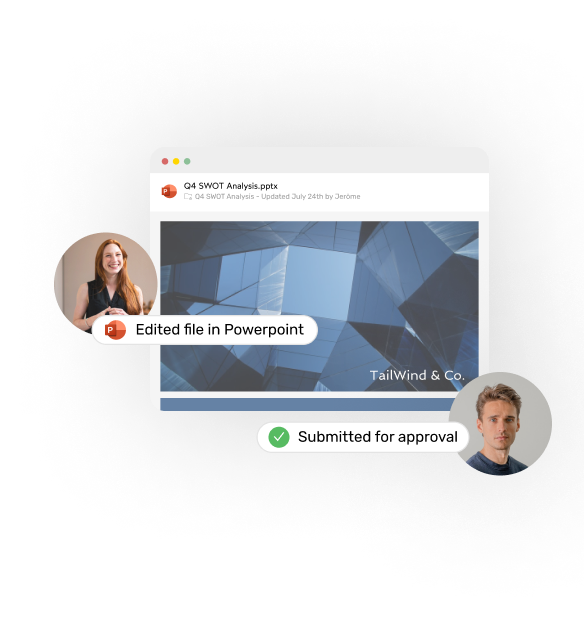 Keep content & data secure
Manage all of your sensitive files and media in a single place, secure at all times. Oodrive makes it easy to monitor content usage, flag and investigate anomalous activity, and control in detail how data is shared and used, reducing the risk of leaks.
Keep an audit trail of every aspect of user rights, content classification and workflows across the extended organisation and receive automatic alerts of potential breaches.
Choose a robust authentication method best-suited to your organisation, including SAML 2.0 (SSO), LDAP, biometrics on mobile devices and even time-based one-time passwords (TOTP) and hardware security modules (HSM).
Manage a secure repository for sensitive and restricted content. Oodrive's solution is uniquely accredited for use with restricted content (ANSSI SecNumCloud).
Insulate your organisation from third-country security risks and comply in full with local data regulations, with ultra-secure sovereign hosting options in the jurisdiction of your choosing.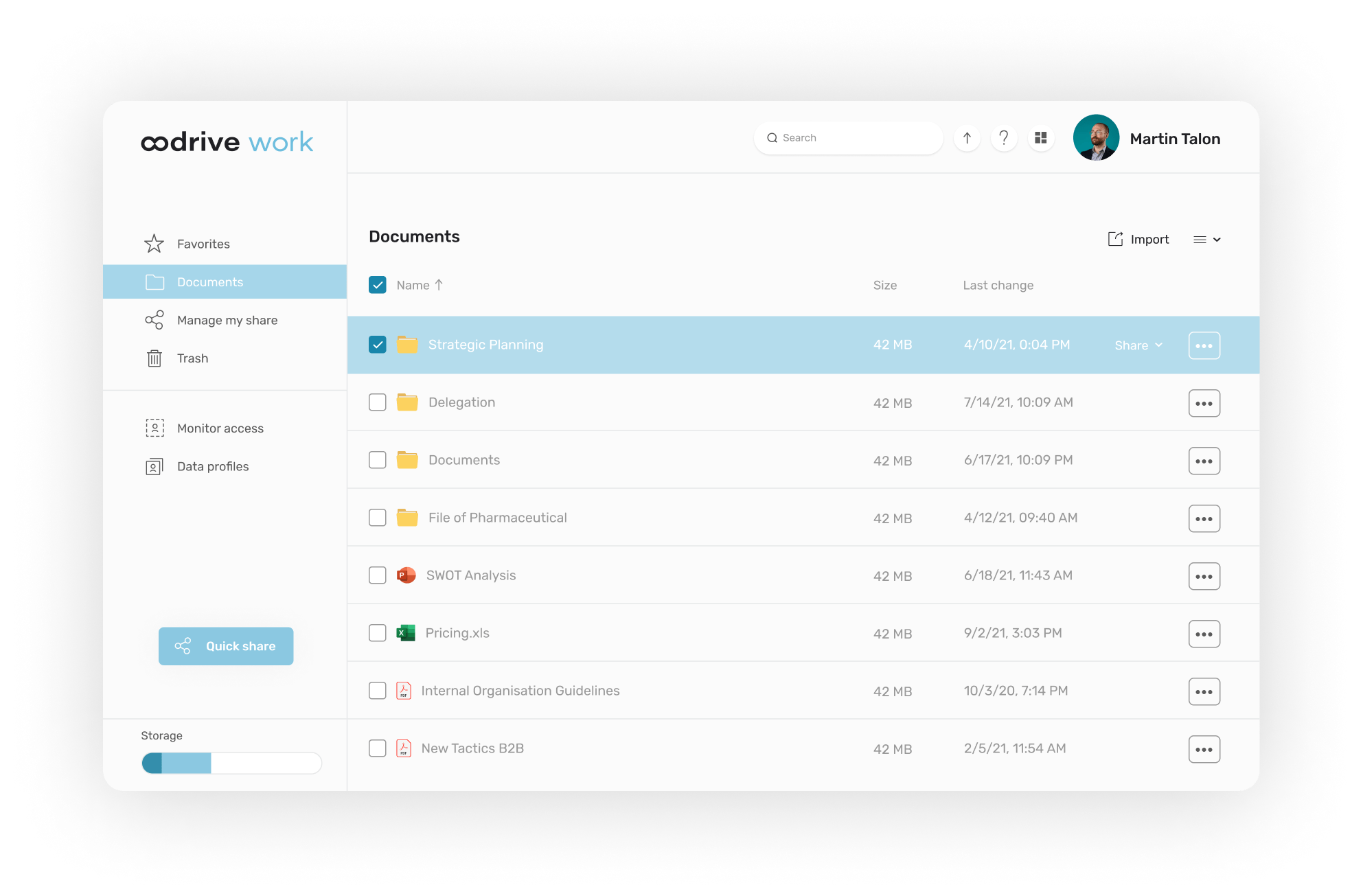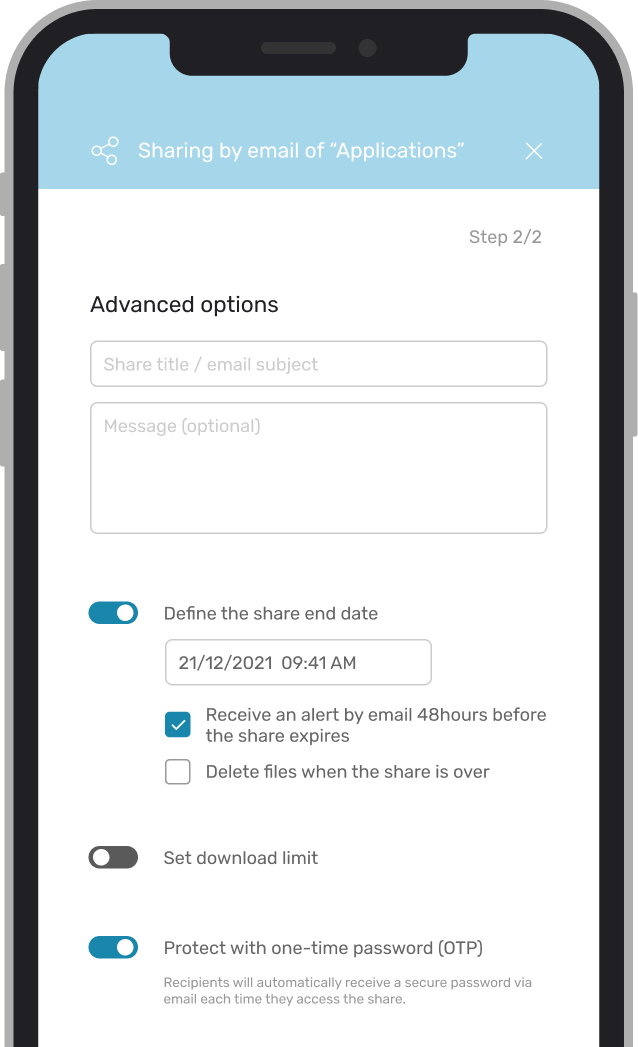 Create, store, find, and share secure files with ease, without worrying about data security rules or technical limitations such as size. Oodrive Work makes collaboration simple and fast, whether you are in the office or working remotely.
Work with easy-to-use web, desktop and mobile apps, with an intuitive, well-designed interface that doesn't slow teams down.
Share content directly within everyday productivity apps such as Microsoft Teams, Microsoft Outlook or Salesforce, thanks to secure connectors and end-to-end encryption.
Always see the latest versions of files, with synchronisation across your workspace, desktop and mobile apps, so that everyone is on the same page.
Ensure security with granular access restrictions and transport layer security (TLS) encryption on sovereign infrastructure, plus automation of transfers and sensitivity tagging, and options to wipe devices after failed access attempts.
Get instant secure access to files and folders in the office, working remotely, or on the move. Oodrive gives teams the solutions they need to rise to the challenge, with tools to view, co-edit, annotate and share files – even create workflows on the fly.
Work with intuitive interfaces that draw on in-depth user research for their UX design, minimizing the need for training, with no compromise on security.
Create and co-edit documents in Microsoft Word, Excel, PowerPoint and more in real time using a securely hosted instance of Microsoft 365 or equivalent.
Find files fast with powerful search functions and filters, and create a customised interface that helps teams feel at home.
Move projects forward with secure folders, dropboxes and bespoke media hubs shared with business partners. Closely control the use of files, receive usage reports, set expiration dates, assign editing and printing rights, limit downloads, and add dynamic watermarks.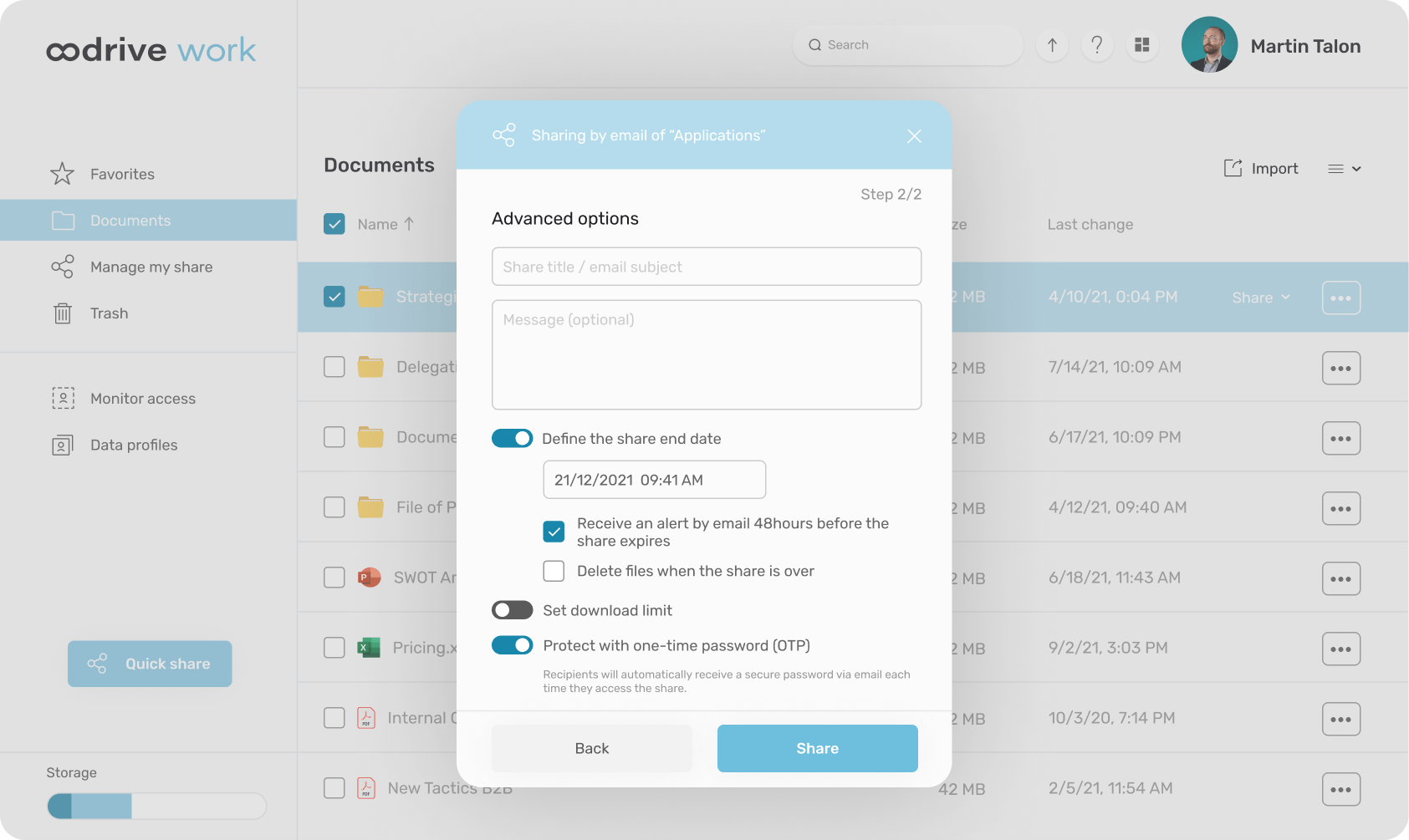 Restore lost files or folders, compare versions, and permanently delete files from all locations in a single click. You can control, integrate and automate all Oodrive features using the Oodrive API.
Apply your compliance policy in full with controls, permissions, monitoring and a full audit trail. Oodrive is permanently maintained to the most stringent security and sovereignty classifications.
Work together from anywhere at any time, mobile and even offline, with synchronised documents. Oodrive Work is available in English, French, German, Spanish, Italian, Japanese, Portuguese, Thai, Dutch, and Mandarin Chinese.
Microsoft 365 integrations
Collaborate in Mictosoft Word, Excel, and PowerPoint on a securely hosted instance of Microsoft 365 or trusted equivalent. Share files with links in Microsoft Outlook and embed usable files and folders into discussions on Microsoft Teams.
What is a trusted collaboration platform?
Learn about trusted collaboration, project data security, and more with our FAQs.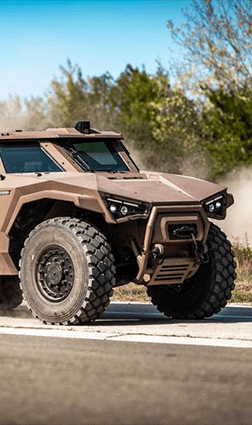 "Setting up a tool for external collaboration is something that we would typically expect to take weeks. With Oodrive, we are ready in one day."
CISO & Infrastructure Manager, Arquus
Read more about Oodrive Work
Give teams the confidence to collaborate at speed
Find out how your business can secure sensitive content, without slowing down work.